Neck and Upper
Back Pain
Treatment Brisbane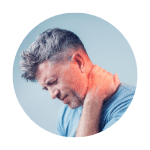 Are you experiencing pain in your neck or upper back? Unfortunately, pain in this region is incredibly common in Australian adults. However, it's often purely due to lifestyle factors like: 
Poor posture 

Spending long periods sitting still 

Constantly angling the neck downwards while looking at phones, tablets and books 
Neck and upper back pain also develop because of other factors including: 
Trauma – for instance as a result of a car accident 

Dysfunction in the jaw joint and surrounding muscles 
At Brisbane West Osteopathy we aim to diagnose the underlying cause of your pain so we can offer you the most effective treatment. Our goal for each patient? Pain relief that lasts, so you can get on with what's important. 
For effective neck and back pain treatment Brisbane contact us today. 
Neck & Upper Back Pain
Neck (cervical spine) problems are far more common than upper back (thoracic spine) problems. This is in part because each thoracic vertebrae is connected to a rib, which provides extra stability. We place neck and upper back pain into two main musculoskeletal categories: simple muscle/joint/soft tissue pains and disc problems. 
Muscle/Joint Pain 
The majority of patients we see with chronic neck and upper back pain have simple muscle and joint problems. Many have experienced chronic pain for years, even decades and by the time they reach us, they are often extremely frustrated. 
That's because they can FEEL the problem, but standard medical tests don't always indicate what the problem is. 
MRI, CT scans and X-rays simply aren't designed to detect biomechanical dysfunctionality in muscles and joints. 
For us, however, detecting these types of dysfunctionalities is one of our chief goals.
That's why for neck and back pain treatment Brisbane, we recommend you see us.
Disc Problems 
We find disc problems can respond well to conservative osteopathic treatment. However, they generally take longer to resolve than simple joint and muscle problems. If you're diagnosed with a disc problem, please allow at least six weeks from first treatment with us, to see a significant improvement. We find many patients are relatively pain free after 6 weeks while others can take up to 3 months of treatment before they feel 90%+ improved.
Not everyone with disc problems will achieve their desired result with osteopathic treatment. Some patients unfortunately require surgical intervention. We always seek the best outcome for our patients and will advise you if we judge you require surgery. However, our goal is for you to avoid surgery wherever practical.
Neck and Upper Back Pain Treatment Brisbane
We provide a tailor-made treatment plan for each patient, based on:
A diagnosis of the underlying cause of your pain

. We only provide a diagnosis once we've conducted a thorough examination. We will also question you to find out exactly what type of pain you are experiencing. For example is it a widespread ache, muscle spasm or sharp, localised pain?

Your medical history

.

If you've had problems with other types of back pain in the past, please let us know the full details. This can help us determine the best treatment approach. 

Your age and physical health

– we only use very gentle techniques on children, babies and elderly people. We work with each patient to deploy the most suitable techniques based on their age and physical condition. We can also suggest strengthening exercises to help you build up supporting muscles. 
What We Do Differently
Our osteopaths use a custom system called the Osteo Diagnostic Platform (ODP). It was originally developed by Dr Enevoldsen after years of research and observation. Dr Haseya has since helped to refine the platform. ODP assesses and treats the muscles of the neck and pelvis differently from other diagnostic techniques. Our clinical experience has shown us the importance of diagnosing and treating dysfunction in the pelvis for long term relief from chronic neck pain or disc problems. Think of the pelvis as like the foundation of a building. If your pelvis is not functioning properly, then the spine above has to adapt, resulting in dysfunction. 
For neck and upper back pain treatment Brisbane contact us today.  
Our Location
Within the Bardon Counselling & Natural Therapies Centre
151 Boundary Rd 
Bardon 4065