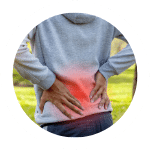 Book Online
At Brisbane West Osteopathy, we'll work with you to treat the underlying cause of your pain and discomfort. If you have any questions before booking, visit our FAQ page or contact us directly.
Please click below to select your appointment date and time. You can leave us a message if required during the booking process.
Note: you need to provide contact details to confirm your booking. 
If there are no appointments listed on the date/time you need, please call us on 3368 1300 and ask to be placed on the cancellation list. We prioritise patients on the cancellation list, in the event of an appointment becoming available.  
Our bookings system is constantly updating. While our team works hard to ensure cancelled bookings are re-listed as quickly as possible, inevitable delays in updates occur. 
For this reason, if you have a particular date and time in mind but can't book it online, please call us to check availability. 
You will NOT be charged until after your appointment. 
Please view our cancellation policy here.
Our Location
Within the Bardon Counselling & Natural Therapies Centre
151 Boundary Rd 
Bardon 4065