Lower Back Pain & Sciatica Treatment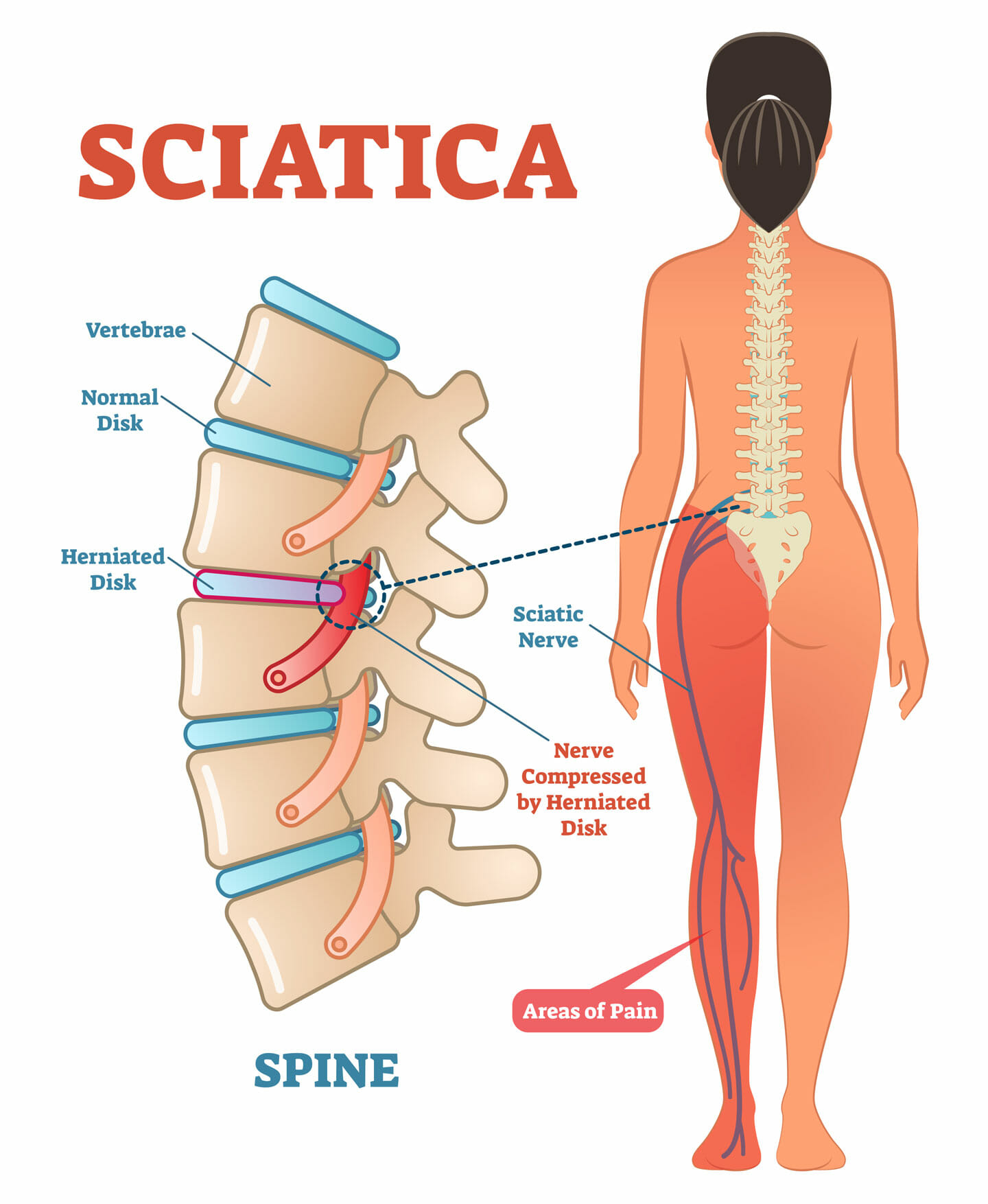 Lower Back Pain
Did you know lower back pain affects over 80% of the population at some point in their life? Lower back pain refers to pain originating from your lumbar spine, the five vertebrae between your pelvis and ribs. If you experience chronic pain in this region, i.e. pain lasting for more than three months, you need medical advice. While chronic pain in your lower back is often debilitating, it can be encouraging to realise effective treatment options are available to you.
For lower back pain treatment Brisbane, contact us today.
Sciatica
If you're experiencing pain radiating down into your thigh and lower leg, you may have sciatica. You will receive a sciatica diagnosis if spinal problems are placing pressure on your sciatic nerve, producing pain that can be severe and even crippling.  
Lower back pain and sciatica have many causes, each requiring a different treatment approach. 
What Causes Lower Back Pain and Sciatica?
We place back pain into two main musculoskeletal categories: simple muscle/joint pains and disc problems. Sciatica too has two main origins.
Muscle and Joint Problems in the Lower Back
For the majority of our patients with chronic lower back pain, the cause is simple muscle/joint pain. Often the pain has persisted for years or even decades. By the time these patients contact us, they are usually very frustrated. That's because they've already undergone extensive treatment with other practitioners, yet their pain persists. 
Disc Problems 
At Brisbane West Osteopathy we treat many patients suffering from chronic, painful disc problems, which are a significant cause of lower back pain. Often these patients have tried other treatments, including surgery and steroid injections without success. We find the majority of such patients respond well to our treatment and management. This is because we correct the underlying biomechanical cause of the disc problem, thus allowing the disc a chance to recover. 
The Sciatic Nerve
Sciatica is often caused when spinal problems like herniated discs and spinal stenosis (narrowing of the spine) place pressure on the sciatic nerve. However, the condition can also be triggered by a little heard-of muscle in the human buttock – the piriformis muscle. This muscle can cause dysfunction, compressing the sciatic nerve and creating similar symptoms to spinal-referred sciatica. The symptoms of sciatica vary in their severity from person to person, however, whatever your level of pain, sciatica treatment can make a significant difference.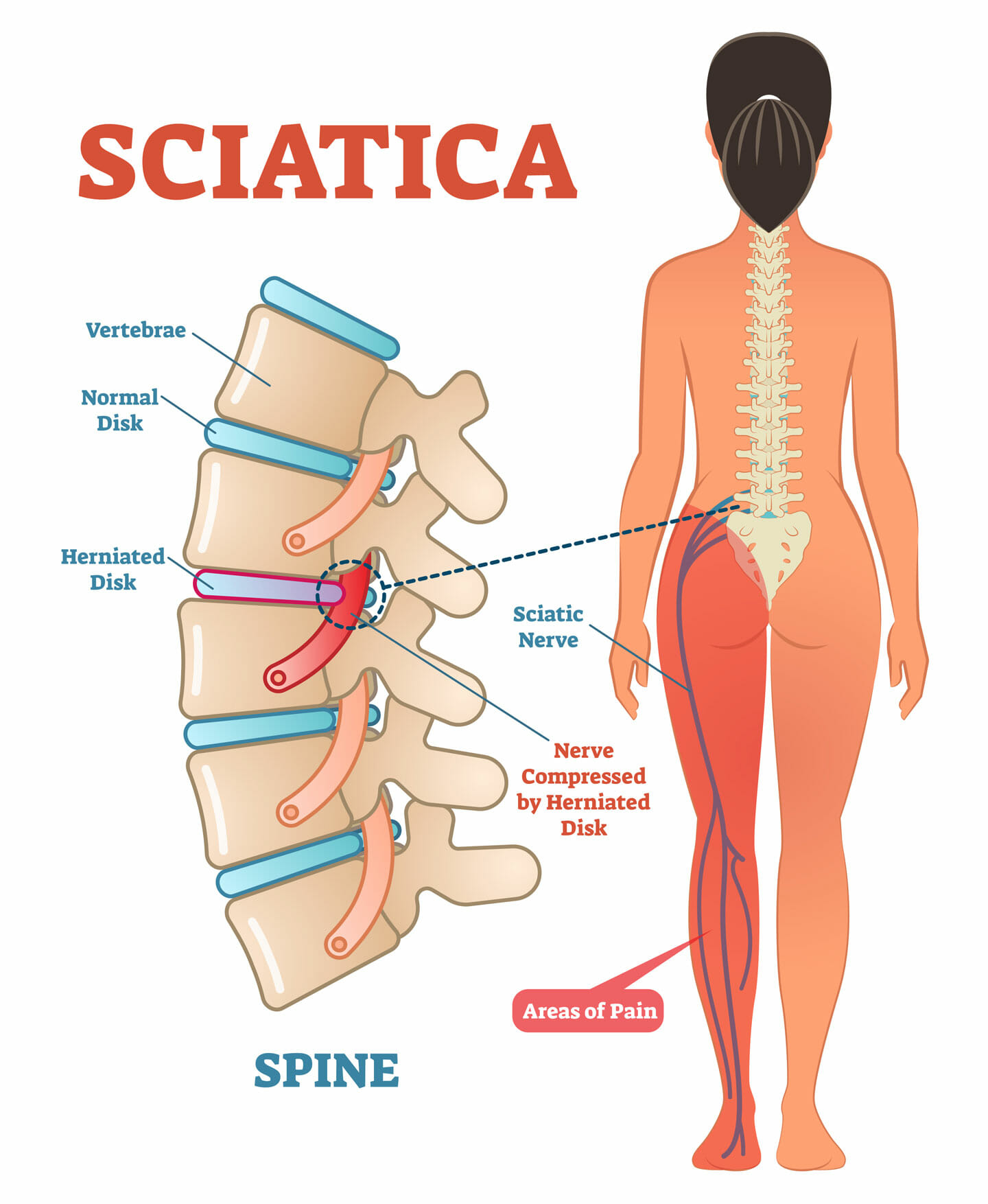 Sciatica and Lower Back Pain Treatment Brisbane
At Brisbane West Osteopathy, we use a custom diagnostic system called Osteo Diagnostic Platform (ODP). This system was developed by Dr Joachim Enevoldsen after years of careful observation and study. It has been refined over recent years with the assistance of Dr Yana Haseya. Dr Enevoldsen has since trained many osteopaths Australia-wide to use it. ODP assesses and treats the pelvis and lower back differently. Rather than solely treating the site of your pain, ODP identifies underlying biomechanical issues to help us provide you with long term relief. 
Has your back pain failed to respond to other treatments? It's likely because of biomechanical dysfunction in other as-yet-untreated areas. We see this often with new patients. Very commonly the site of dysfunction is in the pelvis. Evidence suggests pelvic dysfunction often causes chronic pain and dysfunction in muscles and joints of the lower back*. This is even more likely to be the case if your body has previously sustained trauma. We all have falls throughout our life, many of which we don't even recall. They nonetheless can leave a lasting impact. 
Disc Bulges
Disc bulges generally take longer to treat than simple joint or muscle problems. We find the majority of disc bulge patients are relatively pain-free after 6 weeks of treatment. However, sometimes it can take up to 3 months to achieve 90%+ improvement. Furthermore, not all disc problems can be treated with osteopathy, some patients will require surgery. If you're unsure whether osteopathy may help with your disc problem, please contact us. One of our osteopaths will return your call within one business day. 
Regardless of the cause of your lower back pain, we may be able to help. Therefore, if you need lower back pain and sciatica treatment, contact us during business hours. 
OR 
For lower back pain treatment Brisbane book online today. 
References
*Chaitow L., Jones R., 2012. Chronic Pelvic Pain and Dysfunction. Churchill Livingstone.
Our Location
Within the Bardon Counselling & Natural Therapies Centre
151 Boundary Rd 
Bardon 4065